Blogs
Climate Action for SMEs at Mansion House 31 October 8:30-10:30am
Heart of the City runs a free net zero course for SMEs based or operating in the Square Mile – Climate for SMEs: 4 Steps to Action, funded by the City of London Corporation. To date, over 100 businesses have worked with sustainability experts to understand the basics of net zero, measure their carbon footprint and develop an action plan to reach net zero by 2040, in line with the Corporation's Climate Action Strategy.
At this breakfast, the Lord Mayor will welcome you to Mansion House and discuss the City's role in driving positive climate action. You'll also hear from the team who run the course at Heart of the City – they'll give you practical guidance on how to get started on your net zero journey, introduce you to businesses who have graduated the course, and answer your questions. There'll also be time for networking, so you can meet other SMEs in the Square Mile who want to have a positive impact on the planet. To join us, please apply for a free place by Tuesday 10 October at this link.
Are you going to Bartholomew Fair?
This September, London will be wowed with free stunning performances and cultural events as the City of London's historic Bartholomew Fair is reimagined. From 31 August to 16 September, the City will become the stage for an array of unique entertainment and live performances taking place across the Square Mile. 
Bartholomew Fair, which dates back to the 12th century and was last held in 1855, began as a cloth fair and quickly became London's pre-eminent event, entertaining visitors for over 700 years.
An eclectic mix of the traditional and the modern is at the heart of this year's revival of the Fair, which runs from Thursday to Saturday during the first three weeks of September across different parts of the City. The full programme can be found here: https://www.thecityofldn.com/bartholomew-fair/
St Paul's Gyratory Project
A public consultation has just been launched on the proposals for creating an exciting new public space at the east end of Newgate Street. The project team will be hosting several public events in September where people can discuss the proposals in person with a member of the project team.
If you would like to find out more about the proposals and take part in the on-line consultation, please visit https://stpaulsgyratory.commonplace.is/
A calendar of drop-in meetings can be found at this link:
https://www.cityoflondon.gov.uk/services/streets/traffic-schemes-and-proposals/st-pauls-gyratory-transformation-project
The consultation will be open until 29 September 2023.
City Belonging Project – launch 6th June 2023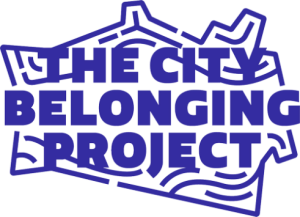 City Belonging Project is a new initiative to build a more inclusive and connected Square Mile by supporting and improving the links between diversity networks – and ensuring that the City's institutions and events are more open to our communities than ever before. You can find more information on the project below and at www.belongingproject.city. You can sign up for the launch event at the Barbican Garden Room and Conservatory on 6th June alongside Sheriff Alastair King, Corporation of London Chief Executive, Ian Thomas CBE, Barbican Chief Executive Claire Spencer AM and representatives of organisations from across the City
The City Belonging Project
Launch Breakfast
Tuesday 6th June 2023, 8.30am-10.00am
Garden Room and Conservatory
Barbican Centre, Silk Street, London EC2Y 8DS
City Giving Day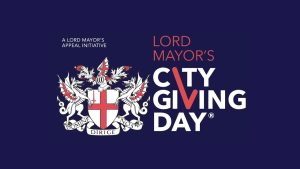 The Lord Mayor is hosting a City Giving Day 2023 Engagement Breakfast at Mansion House on Wednesday 14 June (7:45-9:30am). Your Castle Baynard Ward councillors would be delighted if you were able to attend and/or pass on the details to appropriate contacts within your company. Ward (or beyond) and encourage them to come along to hear more about City Giving Day and how they can get involved this year. For more information and to book your place at the Mansion House breakfast, please contact Jan Foster janette.foster@thelordmayorsappeal.org and do mention that you are from Castle Baynard! This year's City Giving Day is on Tuesday, 26th September.
London Careers Festival, Guildhall 3-5th July 2023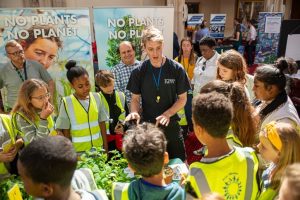 The City of London Corporation is hosting its annual careers festival, a mix of online and in-person events, from 27th June to 7th July. Further information including details of this year's exhibitors, employer workshops and site visits, and how to sign up can be found here: London Careers Festival We are delighted that employers from Castle Baynard Ward are participating in the Festival, including Mace who are the lead contractors on the construction of the Salisbury Square development, LandSec who are developing Hill House and the new Shoe Lane Library and the Fleet Street Quarter BID.
Your visit – London Careers Festival
City Giving Day 2023 – invitation to join the launch breakfast at Mansion House
The Lord Mayor Nicholas Lyons, is hosting the City Giving Day 2023 Launch Breakfast at Mansion House on Tuesday 14th March (7:45-9:30am). Your Councillors would be ple
ased to welcome companies from Castle Baynard to attend the breakfast, hear more about City Giving Day and how you could get involved this year. You can find here the 2022 highlights video. To attend the breakfast, please email Jan Foster, City Giving Day Programme Manager, on janette.foster@thelordmayorsappeal.org and please do mention you are from Castle Baynard!
Supporting emergency relief in Turkey and Syria
The City of London Corporation has donated £50,000 to relief efforts in earthquake-hit Turkey and Syria. The donation from the City's International Disasters Fund will support the Disasters Emergency Committee (DEC) Turkey-Syria Earthquake Appeal, which launched on 9 February. With the death toll set to exceed 35,000 and thousands more left homeless in freezing conditions, monies raised will help co-ordinate the relief effort on the ground, providing shelter and basic relief items to those affected. You can donate to the DEC appeal online at www.dec.org.uk
Communities and Children's Services – Have your say!
Your Councillors Mary Durcan, John Griffiths and Henrika Priest are members of the Communities and Children's Services Committee. They are keen to hear from any residents who are interested in the implementation of the City's Children and Young People's Strategy, 2022-25 as well as those who have views on the City's new Unpaid Carers' Strategy which offers a range of practical support to anyone who regularly supports another person on an unpaid basis – whether a friend, child with additional needs, relative or loved one. For further information email: john.griffiths@cityoflondon.gov.uk
Cost of Living Support
In response to the cost of living pressures many people are facing this winter, the City has created a web page of relevant information to support and signpost both residents and workers. "Getting Help with the Cost of Living" provides information about benefits, managing debt, employment and more. This resource will be regularly updated and added to as further information and support becomes available. In addition, City Advice is a free, confidential service that can help people manage everyday problems. Call 020 7392 2919 (Monday – Friday 10am-1pm and 2-4pm), text 07432 658 083 or email city.advice@toynbeehall.org.uk.
The Golden Key – your opportunity to discover a very different City of London! (John Griffiths)
On Saturday 15th October from noon until late, the City will host a spectacular event transforming the Square Mile through theatre, games and performance for all ages. From families to immersive theatre fans, there's something for everyone. And, it's free!
Enjoy music, dance, stories and street arts at Guildhall, London Wall and St Paul's Cathedral Fairs.
Explore the Maze of Adventures, with 12 interactive routes ending with immersive surprises in secret locations.
Join The Hunt to find the Heart of the City, a treasure hunt for puzzlers and code breakers.
Checkout the Golden Key, produced by BAFTA award-winning charity CONEY, is the first major event planned by the City Corporation under its new "Destination City" programme, aiming to transform the Square Mile's reputation as a unique destination for UK and international visitors, workers, and residents to enjoy.
200+ artists and companies will be performing in 17 different locations across the City. Remember the date: Saturday 15th October 2022, 12 noon until 9.30pm.
Advice and Support with the Cost of Living
In response to the cost of living pressures that many will face this winter, the City has created a web page of relevant information to support and signpost both residents and workers. "Getting Help with the Cost of Living" provides information about benefits, managing debt, employment and more. This resource will be regularly updated and added to as further information and support becomes available.
In addition, City Advice is a free, confidential service that can help people manage everyday problems. Call 020 7392 2919 (Monday – Friday 10am-1pm and 2-4pm), text 07432 658 083 or email city.advice@toynbeehall.org.uk.
Free Support and Advice to SMEs committed to achieving Net Zero (John Griffiths)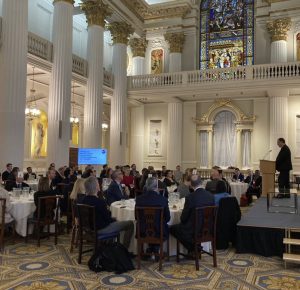 Do you run a small or medium-sized business in the City? Would you like free advice and support to help measure your carbon footprint and prepare to reach net zero?
Heart of the City is a charitable initiative established in 2000 by the Bank of England and the City of London Corporation. Its premise is that business is a force for good – socially and environmentally. Each year, Heart of the City hosts an SME business leaders breakfast at Mansion House to raise awareness of our responsible business programmes and the training support on offer to SMEs. This year's event is on Thursday 20th October , 8am-10am in the Egyptian Hall and will focus on promoting our 'climate for SMEs: 4 steps to action' programme. 
The event is free to attend and the programme is funded via the Corporation's Climate Acton Strategy. Businesses taking part in the year-long course will learn how to measure their carbon footprint, understand what net zero means for their business and plan how to reach net zero by 2040.
If you would like to join a table of business leaders from the ward of Castle Baynard, please email john.griffiths@cityoflondon.gov.uk
Even if you can't attend the breakfast, but would like to know about how Heart of the City can help your business, please contact Director, Maggie Berry OBE, maggie@theheartofthecity.com and download their free climate action toolkit foe SMEs: https://theheartofthecity.com/spread-the-word/
Calling responsible businesses across the City (John Griffiths)
Every year City Giving Day celebrates how the City's businesses can make a difference towards creating a fairer society. This year the Day falls on Tuesday 27th September.  Whether you're a small business or a large corporation, CGD is a chance to engage employees, recruit volunteers, have fun, raise money for good causes and showcase your corporate social responsibility and charitable giving.
Why not join the Lord Mayor, Alderman Vincent Keaveny at Mansion House for a City Giving Day Engagement Breakfast on Wednesday 6th July?  The Lord Mayor's Appeal Charity team will be on hand to share their plans for City Giving Day 2022. It is also an opportunity to hear from the City Giving Day Activity Champions and learn some top tips from guest speakers.
If you would like to attend the breakfast, or know someone who would be interested, please email cgd@thelordmayorsappeal.org with your details asap as spaces are limited!
London Careers Festival
For young people taking their first steps into the fast-changing world of work, high-quality careers education has never been more vital. This year's London Careers Festival takes place over two weeks, with a virtual festival from June 20th – 24th and an in-person event at Guildhall from June 27th – July 1st.
The Festival is a free event which aims to:
• Support schools to meet the benchmarks for offering good careers guidance
• Connect students with employers from a range of sectors
• Inspire students across all age groups and fuel their imagination
• Discover and develop students' fusion skills – competencies, characteristics and tools needed to flourish in today's work environment
• Explore apprenticeships, further education, and career opportunities.
The programme of events offers pupils and teachers the chance to explore a wide range of careers and skills development opportunities, to take part in practical career-focused activities, and to hear directly from experts and businesses. For more information, including how to book, visit londoncareersfestival.org.uk or if you are an employer interested in supporting future careers events, contact: lcf@cityoflondon.gov.uk
New Members Presented to the Court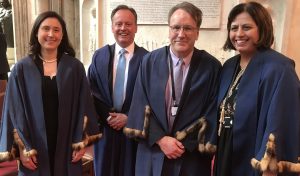 It was a great pleasure to see our four new ward members presented to the Lord Mayor at the start of their first Meeting of the Court of Common Council. They are pictured in the Great Hall immediately after the ceremony in their gowns which are worn on formal occasions.
They are (from left to right) – Martha Grekos, Glen Witney, John Griffiths and Alpa Raja. We are sure that they will all enjoy their time as Common Councillors and will be excellent additions to the Ward team.
Considerate Contractor Scheme (CCS) Awards 2022
Ward member Graham Packham Chair of the City Streets & Walkways Committee led the judging panel that recently inspected four sites that have been nominated by Highways Officers for the Chairman's Cup. The four sites shortlisted were: Stonecutter Court Erith Contractors, 25 Cannon St BAM Construction, 40 Leadenhall St Mace Group, and 8 Bishopsgate Lendlease Construction. The standard this year was exceptional and it was very difficult to choose the winner.
After the site visits the judges convened to Guildhall and were given presentations on three submissions for the CCS Innovation awards, these are submitted by utility companies that have developed and introduced new technology to improve effectiveness and efficiency leading to reduced disruption on our streets. The results and the awards ceremony will be held at Merchant Taylors' Hall on May 13. The picture to the right was taken at 8 Bishopsgate during the judges inspection.
Fleet Street Quarter Bid Ballot Result
Several of the team attended the announcement of the Fleet Street Quarter (FSQ) Business Improvement District (BID) ballot at Guildhall yesterday. The boundary of the proposed FSQ BID area is depicted in the map shown on the right, this covers parts of the wards of Castle Baynard, Farringdon Within and Farringdon Without.
We were delighted with the outcome which was a decisive majority in favour of the proposal. Congratulations to the BID team that drove this proposal forward, in particular Alistair Subba Row Chair of the FSQ Partnership and Ruth Duston MD of Primera who played major roles in the successful development of the BID proposals and the ballot outcome. We look forward to working with the BID team to deliver the projects outlined in the BID plan.
City Police Fleet Cluster Panel
The inaugural Fleet Cluster Panel was held at Apothecaries Hall on January 26th. The City of London Sector Policing team has been set up recently to deliver an enhanced neighborhood policing model. The City has been divided into six clusters and the Fleet Cluster covers the west of the Square Mile covering the wards of Castle Baynard, Farringdon Without and Farringdon Within. The meeting was jointly chaired by our two sector police constables Kevin (Kev) Woodcock and Andy Jacks.
The panel is a mix of business representatives, residents and elected City ward members from the three wards whose role is to identify policing priorities in the Fleet Cluster, and provide advice and direction to the sector police team.
Representatives from St Paul's Cathedral, Apothecaries Hall, Kings College, the Chancery Lane business group, Barclays Bank Fleet St, residents and ward members were present. Graham Packham is the ward member representing Castle Baynard.
After introductions the meeting reviewed crime statistics for the cluster, it was noted that although crime in the City was low, mobile phone theft was increasing as was ASB and crimes associated with licensed premises as people return to the City following lockdowns. The next meeting will focus on agreeing priorities for the cluster team. The panel still has vacancies for 2 more residents, if you would like to join the panel contact Kev at:
kevin.woodcock@city-of-london.pnn.police.uk
HONORARY WARD CLERK
Members were sorry to hear that Louise Lake has tendered her resignation as our Hon Ward Clerk after 15 years of service.  Louise's husband has a new job overseas and Louise and their two daughters will be accompanying him. Louise has been a wonderful Hon Ward Clerk, and members will formally record our thanks at the Ward Mote in March at Shoe Lane Library. However, we are very pleased that Gemma Stockley has agreed to take on the role following Louise's departure. Gemma is a Corporation Senior Committee and Member Services Officer and will be an excellent replacement.
CITY OF LONDON NIGHT SURGERY
Graham joined London Night Czar Amy Lamé on the first City Night Surgery. The Night Surgery was jointly planned by GLA and City Corporation officers. The London night time economy is surprisingly large and important; more than 1.6 million people work in London at night, with the bulk of those — almost 200,000 people, doing so for the National Health Service. The next largest group are those who work in professional services and they can largely be found in the Square Mile and Canary Wharf.
Night Surgeries have taken place across several London Boroughs. The surgeries visit various businesses/services that operate at night. The venues that agreed to take part were the Four Seasons Hotel, Nomura International Bank, City of London Police, St Bart's Hospital and the Rising Sun Pub. During the visits we spoke to staff who worked nights to better understand the challenges and interests of evening and night-time workers in regard to transport, safety, and availability of retail and catering outlets. The main challenge for these key staff was off peak transport, and it was clear that the opening of the night tube was very positive and that extended operational hours for bus routes and trains to the suburbs would be very beneficial.
The picture shows the team meeting night staff at St. Bart's Hospital.
TFL NETWORK MANAGEMENT CONTROL CENTRE

Graham, Jeremy and Michael attended a members briefing at the TfL Network Management Control Centre in Southwark last week.

The London Streets Traffic Control Centre (LSTCC) monitors the London road network 24 hours a day, seven days a week. The centre has access to around 5,000 CCTV cameras that enables monitoring of how traffic is flowing around the Capital. 

TfL manages the Transport for London Road Network (the TLRN or London's 'red routes') and is responsible for the maintenance, management and operation of the Capital's 6,000+ sets of traffic lights.
During incidents and when congestion is seen on the roads the Traffic Controllers can temporarily change the timings at three quarters of London's traffic lights to help reduce queues.
The LSTCC coordinates responses to major incidents and oversees road closures during events such as the London Marathon. They have a network of partners who help get roads back to normal after disruptive incidents, including highways emergency response teams who fix damaged roads and clear up after collisions, flooding or spillages.
The LSTCC is part of a larger operations centre which includes the control rooms for the road tunnels, London buses and includes members of the Metropolitan Police to enable sharing of information quickly and coordination of responses to incidents.
LEN POP-UP GARDEN 
Jeremy officially opened the City's first pop-up garden as part of the Low Emission Neighbourhood (LEN) project. The LEN, jointly funded by the City and the LGA (see 19 July 2016), covers the Barbican Estate and the area around Barts Hospital in north of the City. It aims to tackle pollution in the area through awareness events, working with businesses to tackle emissions from deliveries and freight, the use of electric vehicles and measures such as the pop-up garden. The garden, a partnership with the Friends of City Gardens, as well as being an oasis amongst the concrete of the Barbican, has lots of plants that help trap particles in the atmosphere, thereby reducing the effect of pollution.
CITY FREIGHT FORUM
In his role of Deputy Chairman of the Street and Walkways sub-committee Graham attended the City of London Freight Forum.
This event was arranged to discuss with Logistics Managers from City businesses, options for reducing the impact of deliveries in the City. Despite comprising just 4% of City traffic, HGVs account for 78% of cycle fatalities, 33% of NOx and 27% of PM10 emissions. Speakers included Tim Ward Freight & Fleet Engagement Manager from TFL, Alex Jolly from DHL and Rachel Caton from Doddle.
Options for improving congestion and pollution discussed included consolidation centres to reduce the 18% of emissions generated during the last 1% of journeys, collection centres to eliminate personal internet deliveries to the workplace and reducing deliveries at peak times.
SHORT TERM LETTING
The problems caused by short term letting of flats in the City are becoming increasingly numerous. As a member of the Planning Committee Graham has been pressing the City to become more active in controlling this, and to provide residents with readily available guidance on how to seek help from City officers if they are experiencing problems.
We are now pleased to report that information is now available on the City website which clarifies the legal position on this practice  and provides guidance and support to help residents if neighbouring properties are being used for short term letting in breach of current legislation.
Follow this link for more information.
HERRING GULLS
You may have had your lunchtime sandwich literally grabbed from your mouth recently when sitting outside during good weather in a churchyard or other local open space. The problem of aggressive herring gulls in the ward was discussed at a fascinating round table hosted by Freshfields at their offices in Tudor Street attended by Ian, Henrika and Jeremy. Dee Ward-Thompson from the British Pest Control Association explained that Herring Gulls love to nest on the flat roofs of office blocks. As they pair for life and live for 25-30 years, with adults and offspring returning to the same roof to breed, not controlling the nesting in the first place can result in a long term problem. Methods of control were discussed at the meeting. A variety of scaring tactics can be used – starting pistols, falcons deployed by expert falconers, kites (tethered model kites) and decoys (e.g. models of owls on balustrades), however these need to be varied over time. Strong netting over the roof area can be quite effective. With herring gulls increasing in numbers in urban areas, we will all have to increasingly watch out for attacks from above, particularly when adults are more aggressive during the nesting season after their chicks hatch.
RAISED CARRIAGEWAY ENFORCEMENT
An issue has been raised at the last two wardmotes concerning the inconsistent marking of raised carriageways. The Traffic Management Act of 2004 prohibits parking on these irrespective of carriageway markings (e.g. double or single yellow lines or no markings at all). Many motorists are unaware of this and have incurred parking violation fines as a result. Jeremy and Graham have been pressing City Highways officers to address this issue for some time and at the Street & Walkways sub-committee meeting on December 6th it was agreed that all such carriageways in the City will be marked with double yellow lines. This will improve enforcement and also ensure that motorists do not inadvertently incur penalty charges in the future. The work is planned for completion by March next year.
JEREMY TAKES PART IN RIVER CLEAN-UP
Jeremy took part in an annual foreshore clean-up at Denton Wharf near Gravesend, one of City's Port Health offices. This is organised by Thames 21, a charity that promotes environmental improvements in the Capital's rivers and waterways.
People from the City of London and the Port of London Authority took part in a litter pick, which included rusty picnic chairs, shopping trolleys and even an old bicycle as well as numerous discarded Stella cans – the beer of choice of litter louts!
JEREMY QUERIES OUT-OF-HOURS NOISE FROM BUILDING SITES
The City's proposed Noise Strategy for 2016-2026 was considered at today's meeting of the City of London Health and Wellbeing Board. Jeremy raised the issue of out-of-hours permits being granted for work on building sites where the work to be carried out would be relatively quiet and not a nuisance to local residents. However the equipment that is used to carry out the work often has an audible alarm for health and safety reasons. Alarms may be heard over a wide area at weekends, causing considerable disturbance to local people. Jeremy asked that these alarms be reduced to a minimum level possible.
SAFER IN THE CITY
Graham as the Deputy Chairman of the Streets & Walkways sub committee attended the recent Safer in the City forum organised by the City Road Danger Reduction Team. Speakers included Val Shawcross London Deputy Mayor – Transport and representatives from the City Police, TfL, RoadPeace, the Licenced Taxi Drivers' Association and the London Cycling Campaign Policy Forum.
In the photograph Graham is pictured with Chris Hayward the Chairman of the Planning and Transportation Committee inside the cab of the O'Donovan Waste ground-breaking safety featured Mercedes Benz Econic skip loader 1830L. This the first vehicle of its kind to be commercially bought and put to work in the United Kingdom. Originally designed for municipal waste work, the vehicle has since been made available to the construction sector.
CITY AWARDED LOW EMISSION NEIGHBOURHOOD FUNDING
Jeremy along with the Chairman of the City's Environmental Services Committee was at City Hall to receive £1M in funding from the Mayor of London to support the establishment of a Low Emission Neighbourhood (LEN) in the north of the City.
The LEN will be centred on the Barbican Estate and would also include an outer area covering Barts Hospital, the Guildhall and the Golden Lane Estate.
In the inner area physical changes and restrictions will be introduced to reduce traffic flows and restrict access to ULEVs. Amongst the 17 themes, the City will work with TfL to reduce bus emissions and with freight operators to reduce NOx emissions.