Ward Newsletters
All back issues of the Castle Baynard Ward Newsletters are available at the bottom of this page.
Castle Baynard Newsletter December 2023
HILL HOUSE PLANNING APPLICATION – SHOE LANE LIBRARY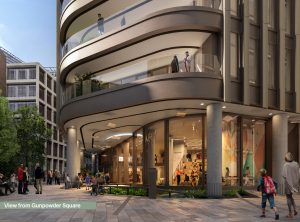 Landsec, the owner of Hill House (in which our much loved Shoe Lane Library is located) has submitted a planning application to redevelop the site.
During the development it is proposed that the library will be temporarily relocated to One New Change near St Paul's cathedral.
The ground floor of the proposed building will house a relocated and enhanced Shoe Lane Library, next to a new enlarged Gunpowder Square (see attached image)
The relocation to ground level and expansion of Shoe Lane Library will provide library users and staff with natural light which the existing basement location is lacking, it will provide access to outdoor spaces and significantly more visibility and prominence in the street.
The 5,500 square foot expansion not only provides significant additional space but also seeks to enrich the library's community offerings to attract new users. This space will also allow the library to generate long term revenue through the provision of affordable workspace opportunities.
ROUGH SLEEPING ASSESSMENT CENTRE
The City of London Corporation has awarded a 3-year contract to operate its new Rough Sleeping Assessment Centre to Thames Reach. The Square Mile-based residential service will offer 14 short-stay beds to rough sleepers when it opens in early 2024, providing 24/7 support, 365 days a year.
Thames Reach is a London-based charity that helps people who are homeless or vulnerable to find homes, build supportive relationships, and lead fulfilling lives. It will work closely with health and social care providers to establish the best routes away from rough sleeping for clients.
The new centre is situated in a former school building in the grounds of Church of Holy Sepulchre on Snow Hill Court.
The building is currently being completely refurbished and designed with the needs of rough sleepers in mind. When this facility opens we should hopefully see a significant reduction in the numbers of rough sleepers in the City.
CITY POLICE BIKE SQUAD
We are pleased to pass on the news that the City of London Police Force has reinstated the City Police Cycle Squad on a trial basis. After a successful trial senior Police Officers have been asked by the Police Board to produce a report on the implications of making the team permanent. This very welcome, highly visible and effective team led by Sergeant Stu Ford has been tasked with helping to keep our streets safe.
Part of the team's role is to deal with cycling offences. During busy commuter periods, the number of cyclists greatly exceeds the number of motor vehicles in the Square Mile. Regrettably there are numerous examples of inconsiderate and illegal behaviour by some cyclists such as ignoring red traffic lights and cycling on pavements. The team has already started to carry out spot operations at key City junctions during the rush hour, and have issued warnings and fixed penalty notices to offenders. Sergeant Ford is pictured with ward members Mary Durcan and Henrika Priest at Ludgate Circus recently when the team was in action.
In order to better understand where and why cycling offences occur, volunteers were sought to support the City of London Police with their Cycle Safety Survey on 16th of November between 08.00-09.00 throughout the City. Two of the ward team participated in the survey (Henrika at Ludgate Circus and Catherine at Blackfriars Station). The information gathered will be used by the Cycle Squad to target hot spots in the Square Mile such as Ludgate Circus in order to encourage all cyclists to behave responsibly.
FSQ BID ERA OF CHANGE
Several ward members were at Goldman Sachs on November 22 for the launch of the Public Realm report which was commissioned by the FSQ BID and produced by Gensler.
The report sets out an exciting set of proposals which were developed in cooperation with City of London officers and other key stakeholders for Placemaking and Public Realm transformation in the Fleet Street Quarter area. The image above (courtesy of Gensler) shows one example of how Fleet Street could be transformed once the current round of developments is completed while still enabling vehicles to travel east-west into and from the City.
The full report can be downloaded from the FSQ website.
WARD SURGERIES
Ward members will be at Shoe Lane Library at 5:30pm on Tuesday December 5, January 9 2024, February 13, March 12 and then on the 2nd Tuesday of every month for the rest of 2024. You can also email any one of us on our group email: enquiries@castle-baynard.org.uk
 Ward Newsletters – Back Issues