Ward Newsletters
All back issues of the Castle Baynard Ward Newsletters are available at the bottom of this page.
Castle Baynard Newsletter June 2022
Salisbury Square Legal Challenge
Following the grant of planning permission for the new City of London Law Courts last year which are planned to handle fraud and economic crime cases, SAVE Britain's Heritage filed for judicial review of the decision to permit in April 2021. The Corporation successfully defended this application in the High Court late last year, but SAVE then made an application to the Court of Appeal.
We are delighted that after a year of legal procedures, we can report that the Court of Appeal has refused permission for the appeal to Judicial Review (JR) to proceed. This is essentially the end of the road for the challenge by SAVE.
Although work has continued on the development including demolition of most of Fleetbank House, work on the area of the development facing Fleet Street was constrained to activities that would be necessary even if the legal challenge was successful such as internal asbestos removal.
This has been a significant waste of public money which regrettably is becoming a recurring reality of the planning process.
A short video which shows how the new buildings and public realm will look once the development is complete can be viewed from this link.
Central London Bus Network Review
TfL has launched a six week consultation to seek views of residents and businesses on proposed changes to reshape the central and inner London bus network.
The effect of the pandemic on TfL's finances has required a more detailed review of the bus network in order to achieve significant financial savings required by the Government.
While buses remain the most popular form of of transport in London, demand on many central and inner London bus routes has reduced.
Ridership on some routes has been declining since 2014, and by 2019 passenger levels had fallen by nine per cent as improvements to rail services and walking and cycling infrastructure provided new alternatives.
Currently nearly 20 per cent of journeys made on central London bus routes involve a change of bus. Under the proposals being consulted upon, it is predicted that the proportion of customers who would need to change buses will increase to around 24 per cent. The Hopper Fare, which allows unlimited journeys within the hour for the price of a single fare, would ensure most customers will not pay more.
Those aged under 18 and over 60 would continue to benefit from free bus travel and in planning these changes TfL has endeavoured to ensure existing links are retained.
For further information, and to see which bus routes in the City of London, as well as across greater London, are included in the proposals and to complete the online survey, please submit feedback via:
https://haveyoursay.tfl.gov.uk/busreview
LONDON WALL WEST PUBLIC CONSULTATION
The City Corporation has recently published plans for this important site which is the current home for the Museum of London as well as Bastion House. The site will be redeveloped following the Museum's planned relocation to West Smithfield and because both buildings are nearly 50 years old, they require significant investment to remain fit for purpose.
Through its development, the site provides an opportunity to create a world-class destination that attracts major businesses. In doing so, the project would help contribute to the funding required for major projects like the Museum of London's move to West Smithfield and deliver wider cultural, community, and economic investment, as well as significant public realm improvements.
A third round of public consultation is now underway including two pop-up exhibitions in the Ward at One New Change on June 21 and June 23, between 12:00 -14:00. The latest proposals with an online survey will also be available to view from June 18 at: https://londonwallwest.co.uk/
WARD BEADLE RETIREMENT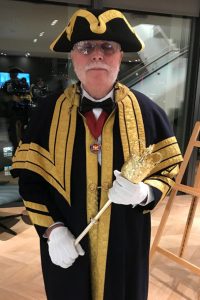 Our Ward's much loved Beadle Geoff Tucker (pictured right) retired from his civic duties recently. Geoff has served the ward as our Beadle with great distinction since 2005. To commemorate his service and as a gesture of our thanks, Geoff was presented with an inscribed silver paper knife at the recent annual dinner of the Castle Baynard Ward Club.
The team would like to take this opportunity to wish Geoff and his wife Teresa a long and happy retirement. We are pleased to welcome Stephen Henderson as our new Beadle. Stephen officiated at the last wardmote and will be an excellent successor.
An interesting article on the history of the City Beadles can be found on the Ward Club website at: http://cbwc.org.uk/ward-beadle/
TIPPERARY UPDATE
An application to have the threatened historic Tipperary pub in Fleet Street listed as an Asset of Community Value (ACV) which was supported by 24 Ward residents was agreed by the City Policy & Resources Committee on May 5th. Following this decision Planning officers have been engaging with the owner's agents to press to have the pub reopened quickly.
Following these discussions it appears that the refurbishment of the office next door recently vacated by Freshfields (Number 65) will include major changes to the Fleet Street façade which makes early reopening problematic. Officers are now exploring with the agent the option of placing information boards for the public outside the pub, explaining that the historic pub will be protected during ongoing building works and will reopen on completion with hopefully an indication of when that will be.
 Ward Newsletters – Back Issues