Our Team
We stood for office as a team in the recent City elections. All of us have extensive experience of the Ward and the City and understand the importance of the Square Mile to London and the UK economy.
This is a key time for the City, as our businesses face the economic challenges of recovery from the pandemic and the aftermath of Brexit. We believe that City stakeholders are best served by an authority where the elected members can represent the interests of their constituents, rather than any particular political party or pressure group, and stood as independents, and pledged to work constructively as a team with whoever was elected as a member to represent the Ward. 
Mary Durcan
Mary is a City resident who worked as a Senior Manager in the NHS and was a magistrate for 30 years (chairing the Family Panel and Licensing Committee). She was also involved in the Scout movement and a Women's Refuge. Mary was elected as a City Common Councillor in 2017 and is the Chair of the Port Health & Environmental Services Committee, Chair of the Health & Wellbeing Board and is a member of the Licencing, Community & Children's Services and the Planning & Transportations Committees.
Mary has a special interest in recycling, street cleaning and noise and pollution issues which particularly affect residents. Mary is also a school governor and a trustee of a local community centre.
John Griffiths
John is a founder of Rocket Science UK Ltd, a consulting firm based, since 2001 in Farringdon and now located in the Ward. His current work for the Greater London Authority and City Bridge Trust focuses on the design, funding and evaluation of programmes which tackle inequality. John is a former Councillor in Tower Hamlets, serving on the Overview and Scrutiny Committee and leading the successful campaign to keep open the famous York Hall boxing venue. John's committees include Community & Children's Services, Culture Heritage & Libraries and the City Bridge Foundation Board.
John is a Non-Executive Director of Bikeworks CIC, an award-winning social enterprise; a member of the Haberdashers' Company Charities' Committee, Castle Baynard Ward Club and Chair of Finance of a local primary school.
Michael Hudson
Michael Hudson was recently re-elected as a Common Councillor for the Ward in March 2023 after a by-election. Michael had  previously been a Member of Common Council for Castle Baynard Ward between 2007 and 2022.
During his previous time as a member Michael had served on numerous City Committees and prior to the election in 2022 was current Chairman of the Health & Social Care Scrutiny Committee, Deputy Chairman of the Freemen's School and a past Chair of the Barbican Residential Committee. Following his election Michael will represent the Ward on the Finance Committee before seeking appointments on other Committees.
Michael is a trustee of three charities which help young people, is also a Painter-Stainer liveryman, a Past Chairman of the Castle Baynard Ward Club, a Past President of the City Livery Club and a member of several other organisations.
Catherine McGuinness
Catherine has recently completed her 5 year term as Chair of the City's Policy & Resources Committee. As Policy Chair she has been a spokesperson for the City and the financial and professional services sector through Brexit and as the UK finds its new place in the world, working to strengthen its competitiveness; Catherine was also closely involved in the London response to the pandemic; and  played a leading role in the City's own recovery plans. Catherine's current committees include Finance Committee, Open Spaces & City Gardens and Policy & Resources.
A lawyer by profession, she has worked in the ward, and represented it since 1997 and regards serving the Ward as an elected member a great privilege. 
Graham Packham
Graham is an IT specialist who spent most of his working career in international roles at Mars and PwC. Graham has lived in the Ward since 2003 and was elected as a Common Councillor in 2013. He is passionate about the City and takes a particular interest in Planning, Policing and Licensing issues which impact residents and businesses.
Graham's committees include; City of London Police Authority Board, Planning & Transportation (Deputy Chairman), Streets & Walkways (Chairman), Licensing and the Board of Governors of the Guildhall School of Music & Drama (Chairman).
Graham has a degree in Physics, is a keen cruciverbalist and his interests include current affairs, astronomy, music (all genres), watching most sports and geriatric golf. Graham is an active member of the Castle Baynard Ward Club, is a past Chairman and the current Club's Public Relations Officer.
Henrika Priest
Originally from Sweden, Henrika has lived in the UK since 1988 and in the Ward since 1997. She spent over 20 years in the City working in the financial services sector before moving from her last position with the New York Stock Exchange to her current role as Marketing Campaign Manager with Jones Lang LaSalle, a property advisory firm. Henrika has served the residents and businesses in the Ward as a Common Councilman for 12 years and, having lived in the City for over 24 years, she's has always taken a keen interest in the local neighbourhood and the issues affecting its constituents. In particular, she's represented Ward residents' views on numerous licensing and planning applications, as well as working on other Ward issues such as homelessness.
Henrika is passionate about the environment and her current committees include Community & Children's Services and she is Chair of the Homelessness & Rough Sleepers Sub Committee. She likes to spend her spare time on the Kent coast where she participates in regular beach cleans, and back in London Henrika sometimes gets to use her Thames Foreshore Permit for the odd spot of mud larking.
Alpa Raja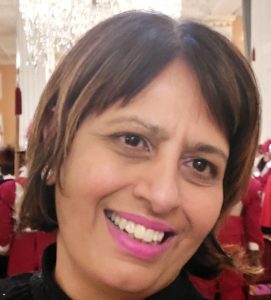 Alpa is a Business Restructuring and Turnaround specialist and through this work fully understands the pressures that our businesses are currently facing in the City.
Alpa has worked in Temple Chambers in the Ward for several years and is keen to see our Ward flourish socially and economically. Alpa is passionate about the City's cultural heritage, raising mental health awareness, and diversity and inclusion. Alpa serves on the Culture Heritage & Libraries Committee and the Barbican Centre Board.
Alpa is a former Trustee with MIND, actively involved with Carers and currently sits on the Veterans Pensions Advisory committee with the MOD and helps oversee their mental health awareness programme.
Glen Witney
Glen is a partner at Deloitte, who are the largest employer in ward and are located in and around New Street Square. Glen leads the Transaction Services business, which comprises over 700 professionals who focus on helping their clients deliver some of the largest and most complex mergers, separations and IPO's. Glen arrived in the UK from Australia in 1998 and has spent the last 20 years working in the City. His sector specialism is in the Travel, Hospitality and Leisure sector and he is keen to use this knowledge to support businesses in this area, particularly as they adjust and adapt their business models following the pandemic. Glen serves on the Culture Heritage & Libraries Committee.
Glen has been a keen contributor to Deloitte's respect and inclusion programme and has championed the recruitment of school leavers into the firm's Bright Start Apprenticeship programme. He is passionate about promoting the opportunity the Square Mile provides, particularly to those from less fortunate backgrounds. Glen and his wife Lisa are also residents of the City, Lisa works for an international bank in the City and Glen is a Liveryman of The worshipful Company of Spectacle Makers, where he is an active contributor to their charitable initiatives.